Venue Information
Sheraton Society Hill Hotel
Philadelphia, Pennsylvania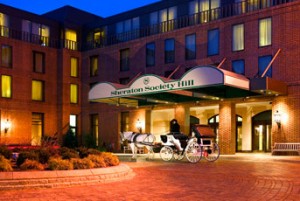 Located in the heart of America's most historic square mile and only steps away from Independence Hall and the Liberty Bell (as well as world-class restaurants, shopping, galleries, and theaters), the cobblestone streets in the area surrounding the Sheraton Society Hill Hotel afford you the opportunity to step back in time. Hotel amenities include a fitness center, indoor heated pool, indoor whirlpool, sauna, and a long list of other services.
For detailed information about the Sheraton Society Hill Hotel, visit their website at: www.sheraton.com/societyhill or call (215) 238-6000.
Reservations can be made by calling (800) 325-3535. A special conference rate of $179 is available, including free wireless internet access. Please mention the UConn CPED PTI Conference when you make your reservation. Online reservations can be made at the following website: http://www.starwoodmeeting.com/Book/PTI2012
Parking
Overnight valet parking at the hotel is $37.00 (plus applicable taxes); daily valet parking at the hotel is $29.00 (plus applicable taxes). Parking can be added to your room bill. Self parking is not available at the hotel.
City of Philadelphia
For detailed information on the Philadelphia area, visit the following sites:
Traveling to Philadephia
For detailed information on traveling to Philadelphia, please visit:
The Official Convention and Visitors Site for Philadelphia
Philadelphia International Airport (PHL) is the closest airport and is served by most major airlines.
Train travel is possible via Amtrak's 30th Street Station (PHL)
Bus travel is possible via Greyhound
Cabs are another transportation option and typically cost $20.00 (one way) between the airport and hotel.
Driving directions are obtainable via Google Maps